The World Economic Forum has suggested that GDP is not the only measure of economic growth. Human beings and all other living beings stand together, interconnected deeply like the forest. The wellbeing of nature, its forests, seas and mountains is the well being of us all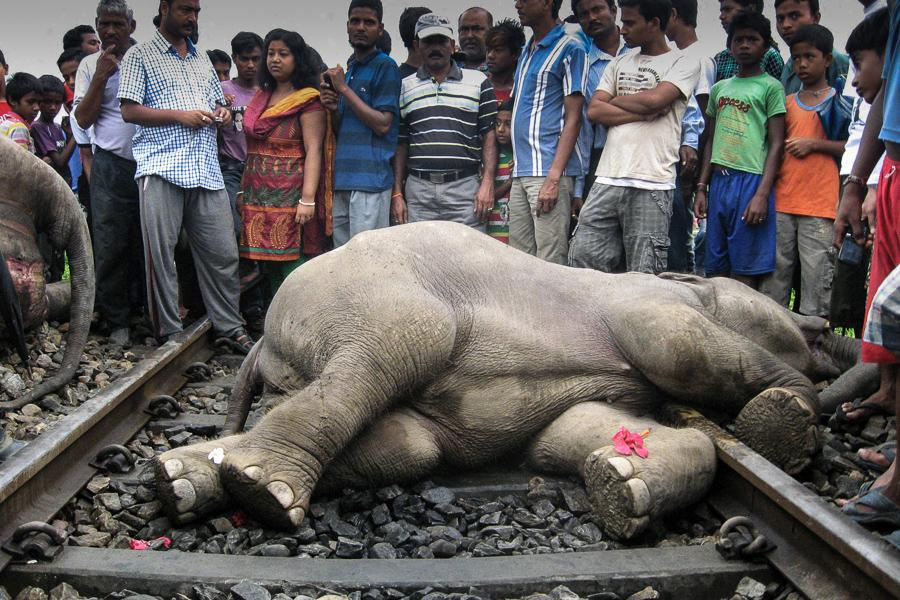 In December 2020, two elephants were killed by speeding trains in Odhisa, one within the Sambalpur Forest Range. These followed nearly 65 elephants and 32,000 other animals—including lions and leopards—killed between 2015-2019 by linear transportation projects. Referring to 19 wild elephants killed crossing railway tracks within protected areas in 2019, two less than the 21 killed in 2017, Minister of State, Environment, Forests and Climate Change Babul Supriyo, in a written reply in Lok Sabha said, "Due to concerted efforts taken by the central and state governments the elephant deaths by train accidents has been reducing in the recent years."
At the cost of endangered species and the environment, India's Budget 2021-2022 prioritised railways, highways, airports and commercial complexes. Many of them are in protected areas positioned to displace ancient tribal communities, further endanger critically endangered species, destroy biodiverse forests and habitats, and accelerate climate change.
India drew plans to displace the ancient Onge tribe in densely forested Little Andamans to create a new Singapore. A melting glacier broke in Nanda Devi in the Himalayas: consequent floods killed hundreds of people and created havoc from Chamoli to Haridwar. Unseasonal rains destroyed the mango crop in the Western Ghats of Kerala where a tunnel is planned through an area devastated by monsoon landslides in recent years. "Declare state of climate emergency in every country," said UN Secretary-General Antonio Guterres in December, as 2020 drew to a close. "Can anybody still deny that we are facing a dramatic emergency?"
India was the seventh most-affected country by the devastating impact of climate change in 2019 according to the Global Climate Index. Flooding from an unusually severe monsoon and eight tropical storms in 2019 caused economic damage worth $26 billion, killed 1,800 and displaced or affected nearly 40 million people. Globally, from 2000 to 2019, over 475,000 people have died due to over 11,000 extreme weather events and consequent economic losses were around $2.56 trillion. At the Global Adaptation Summit 2021, young people from over 115 countries presented a call to action "Adapt for our Future" to the 8th Secretary-General of the United Nations Ban Ki-Moon. "We need a seat at the table, the training, the jobs and the financial support to ensure that we can adapt our world for our future," asked the representatives at the virtual event.
We have responsibilities to our youth who will inherit the planet we leave behind. We also have responsibilities to other species who inhabit it alongside us. Studies by Professor Suzanne Simard of the University of British Columbia, show that in forests, cooperation is as central to evolution as competition and that species in an old-growth forest are 'interdependent like yin and yang.'
Not only forests but the whole of the earth is interconnected and interdependent. All species are affected by our individual and collective actions. Climate change is a global phenomenon and the actions of every individual and every country affect the wellbeing of our planet. All living organisms dependent on its natural rhythms and patterns.
The losses caused by Covid-19—a consequence of environmental destruction—put a spotlight on the interwoven nature of the environment with economic growth, livelihoods and well-being. Prakash Javadekar, Minister of Environment, Forests and Climate Change said Rs 30 lakh crore pumped in by the government helped the country towards revival after Covid-19 lockdown. However, despite recent conclusions of multiple branches of the United Nations that human activities causing climate change and biodiversity loss also drive pandemic risk, the Niti Aayog is examining the 'unintended economic consequences' of court orders disallowing environmental destruction by large projects. Climate Change was not mentioned at all in Finance Minister Nirmala Sitharaman's Budget speech and the allocation to the conservation causes was severely cut.
Simultaneously, despite Javadekar's assertions that "India is the only country which is honouring its commitment on climate change, even though it is not responsible for it", he chaired the recent Standing Committee of the National Board for Wildlife (SCNBWL) meeting which cleared railways and highways through our most fragile forest areas in the Western Ghats, Chambal, Ranthambore and the National Gharial Sanctuary. The SCNBWL permitted denotification of national parks and tiger reserves across India for coal, sand mining and construction despite objections from environmentalists, concerned citizens and their own expert institutions' warnings about the impact on tigers, leopards, Indian wolf, striped hyena, sloth bear and the critically endangered gharial.
On the PMO [Prime Minister's Office] website, there is an image of Minister Javadekar and Prime Minister Narendra Modi watering a sapling together. PM Modi says "We the present generation have a responsibility to act as the trustee of the rich natural wealth for the future generations. The issue is not merely about climate change; it is about climate justice…But when we speak of climate justice, we demonstrate our sensitivity and resolve to secure the future of the poor from the perils of natural disasters."
The World Economic Forum has suggested that GDP is not the only measure of economic growth and is considering a metric to include well-being. Countries like Bhutan and New Zealand lead the way. Human beings and all other living beings stand together, interconnected deeply like the forest. The well-being of nature, its forests, seas and mountains is the well-being of us all.
The writer is a convenor of Awaaz Foundation
The thoughts and opinions shared here are of the author.