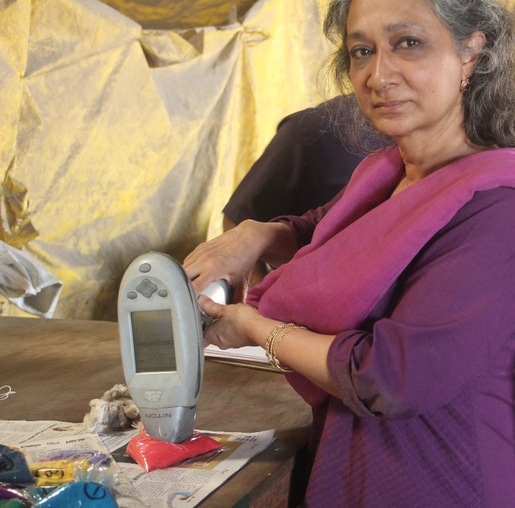 ---
We tested about 17 colours. All of them contained Aluminum. The other common findings in many colours were Zinc and Iron when tested with NITON. Lab findings also found Sulphur, potassium, manganese, titanium, zirconium, calcium and a tiny quantity of lead in 2 colours ( dark purple and dark pink/red)
Sumaira Abdulali
Awaaz Foundation
​6th March 2015
---
28th February 2010
Shri Ashok Chavan, Chief Minister Maharashtra.
Shri Suresh Shetty, Minister of Environment and Minister of Health, Maharashtra.
Shri J Dange, Chief Secretary, Maharashtra.
Shrimati Sharwaree Gokhale, Secretary, Health, Maharashtra.
Shrimati Valsa Nair, Secretary, Environment, Maharashtra.
Shri Mahesh Phatak, Member-Secretary, Maharashtra Pollution Control Board.
Hon'ble Ministers and Secretaries to the Government of Maharashtra,
Subject: Mercury, lead and cadmium in Holi colours; request for notification to lay down parameters of chemical/heavy metal content of Holi colours
Wish you a very happy, colourful, non-toxic Holi. While we appreciate the 'Appeal' for eco friendly Holi on the Government of Maharashtra website, we believe that stringent parameters regulating chemical content of Holi colours would be essential before an actual eco friendly Holi festival is possible. SInce 'natural' colours are not legally defined, even citizens who wish to celebrate eco friendly Holi are often mis led into using colours containing toxic heavy metals including cadmium lead and mercury.
A joint testing of Holi colours conducted by the 'Indian Express' newspaper and Awaaz Foundation reveal that Holi colours including so called 'natural' colours contain high levels of mercury, lead and cadmium. Worldwide, efforts are being made to reduce exposure to these pollutants while in India, we permit them to be deliberately rubbed all over our bodies.
The adverse health effects of mercury, lead and cadmium poisoning are well known and generally accepted. All these metals are highly toxic and exposure may result in serious illnesses including death. A WHO Report states:
Lead: Lead is a well-known neurotoxin. Impairment of neurodevelopment in children is the most critical effect. Exposure in utero, during breastfeeding and in early childhood may all be responsible for the effects. Lead accumulates in the skeleton, and its mobilization from bones during pregnancy and lactation causes exposure to fetuses and breastfed infants. Hence, the lifetime exposure of woman before pregnancy is important.
Cadmium: Important health endpoints include kidney and bone damage and cancer.
Mercury: Methylmercury is a potent neurotoxin. Unborn children are the most susceptible population group, Methylmercury is also excreted in mothers' milk.
We request that, in the interest of the health of it's citizens, the Government of Maharashtra take serious note of these and other poisons which may be contained in Holi colours and take action to regulate their composition. We request that standards defining permissible chemical and heavy metal content of Holi colours including 'natural' colours should be notified and strictly implemented. We request mandatory disclosure of content on Holi colour packaging and a mechanism for stringent action in case such parameters are violated at all stages, including manufacture, distribution, sale and use.
Yours sincerely,
Sumaira Abdulali
Awaaz Foundation
74, New Silver Home,
New Kantwadi Road,
Bandra West,
Mumbai 400 050.
Tel: 982 15 20805
Tests reveal heavy metal content in Holi colours
Nitya Kaushik
Tags :

festivals

,

HOLI
Posted:
Sunday , Feb 28, 2010 at 0426 hrs
Mumbai:
Most Holi colours sold in the city contain heavy metals like lead, mercury and cadmium, which are hazardous even in traces. A reality check was done by this newspaper on five colours with the help of the Maharashtra Pollution Control Board (MPCB) at its Navi Mumbai lab.
* A gulal sample from a store near Bandra station contained 36 mg/kg lead, 0.09 mg/kg mercury and 4.8 mg/kg cadmium.
* Herbal gulal from a Dadar shop contained 8 mg/kg lead and 2.8 mg/kg cadmium.
* 'Golden powder' from a Dadar shop had 6 mg/kg lead, 0.146 mg/kg mercury and 6.8 mg/kg cadmium.
* Metallic green powder from Crawford Market showed 34 mg/kg lead and 9.6 mg/kg cadmium.
These metals cause problems like high blood pressure and nervous disorder. A second lot from Bandra and Khar was tested in a MoEF-recognised lab with the help of NGO Awaaz Foundation. The tests revealed that red and royal pink colours had 4 mg/kg mercury and maroon about 2 mg/kg.
Dr Hasnain Patel, vice-chairman of the International Board of Clinical Metal Toxicology and president of the Indian Society for Metal Toxicology and Chelation Therapy, said, "There is no prescribed safe limit for these metals in our immediate environment because even traces of them can be dangerous... They can enter blood through the skin..."
Dr Amita Athavale, head, KEM Hospital's Environment Pollution Research Centre said, "In colours, chemicals are introduced to get different shades. Cadmium gives yellowness. Heavy metal in the environment or the body can cause severe health problems. A shift to colours derived from plants and flowers should be encouraged."
Sumaira Abdulali of Awaaz Foundation added that she would push the government for a regulation on use of colours considering their high toxicity.
The Indian Express Group

|

Privacy Policy

|

Feedback

|

Site Map
Work With Us

|

Advertise With Us

|

Contact Us
© 2010 The Indian Express Limited. All rights reserved
​